See on Scoop.it – Student Learning through School Libraries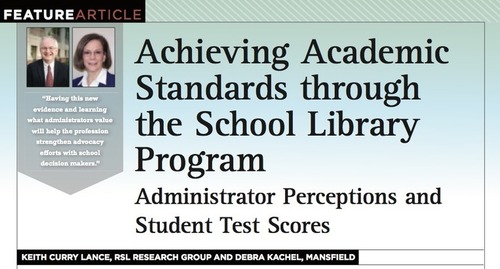 Today, Teacher Librarian magazine published an article by Deb Kachel and me. The article presents the find
lyn_hay's insight:
The latest research project conducted by Keith Curry Lance and associates in Pennsylvania which examines school administrators' perceptions of school libraries and student test scores. One of the reports recommendations highlights the need for more TL practitioners to work at building local evidence to strengthen the research base, as the authors conclude: "We also need more local action research studies—otherwise known as self-assessments—by school librarians themselves. Many school librarians do not feel they have time to conduct self-assessments in the form of local, evidence-based studies of their practice. Yet this needs to be an integral part of the research. If we wish to see the kind of change in the public education policy that will establish firmly the future of school libraries and librarians, local decision-makers—administrators, school board members, and even parents—must be made aware not only of what we know from large-scale studies but also of evidence of ways in which their own experience of school libraries and librarians matters. Only then will they internalize a deep understanding of the contributions that school library programs make and begin to make decisions consistent with a
personal commitment to them."
I could not agree more with this recommendation. Since 2010, Dr Ross Todd and I have been working together to help build the capacity of Australia's TL profession as evidence-based practitioners. This is a slow movement, but we are starting to see some excellent practice-based research being published in journals such as Scan and Access, and being presented at conferences. We are slowly building this evidence, but we need this movement to extend beyond those leading lights in the profession. Only then will we be in a position to demonstrate to education systems, governments and the wider community of school libraries impact on student achievement. Please join our EBP Facebook group at https://www.facebook.com/groups/EBPforSL/ for more information.
See on keithcurrylance.com